HIGHLIGHTS
Demonstrating an elegantly simple design within the kitchen, Mia Cucina uses a light wooden tone incorporating with white and beige for the cabinets to achieve subtle luxury in style. The patterned worktop is seamlessly blended into the sink for alignment; the black mirror backsplash with glass display upper cabinets generates a spacious, airy appearance; and different sizes of drawers further offer a clutter-free environment.
FEATURES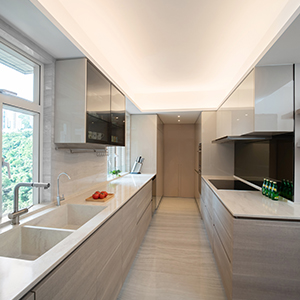 Mia Cucina utilized a black glass backsplash to match with existing glass wall cabinets, giving this deep kitchen a bright and spacious look.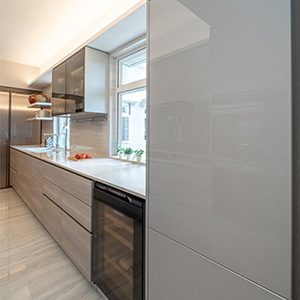 Mia Cucina utilizes light colors as its key tone, which wooden base cabinets are accented by pure white wall cabinets and beige tall cabinets to give the space a unique and pleasing appeal.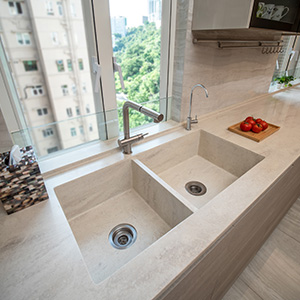 The double-bowl sink allows users to prepare ingredients quickly, at the same time, kitchen utensils and ingredients can be washed separately to ensure hygiene.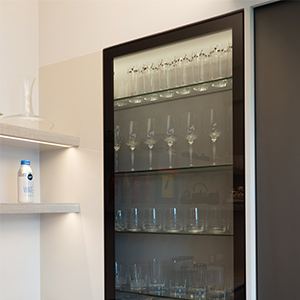 Tempered glass cabinets have been added for display purposes, highlighting the personal taste and preserving the bright ambiance.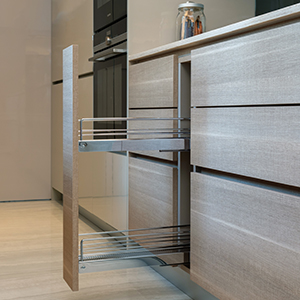 The base cabinet seems narrow, but there is plenty of storage space for sauces and ingredients.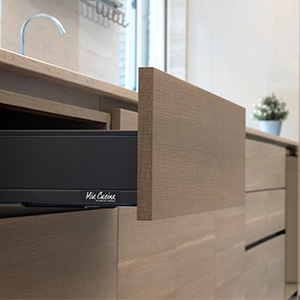 Slides imported from Europe provide stability to a drawer and preserve the utensils and containers from damages.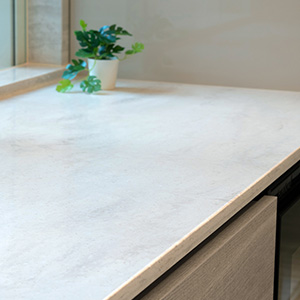 Solid stone is one of the popular choices for worktop with no joints, making it rather easy to clean.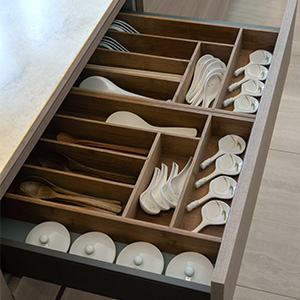 Customized inner organizers are available for all-size drawers to facilitate storage according to the users' preferences.
Back