HIGHLIGHTS
Base cabinets, worktop and wall tiles in light shades of beige are indispensable elements in designing a natural cozy kitchen. Not only adds layers and uniqueness to the kitchen, the stainless steel and black mirror backsplash also visually enhance the sense of space. Highly functional accessories, including corner unit, pull-out unit and tall cabinet, are utilized to further maximize the storage capacity.
FEATURES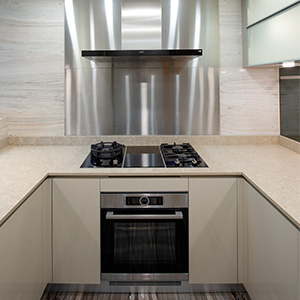 Range hood, stove and oven are placed at the same vertical line to effectively reduce the heat and oil fumes of cooking, so as the cleaning time.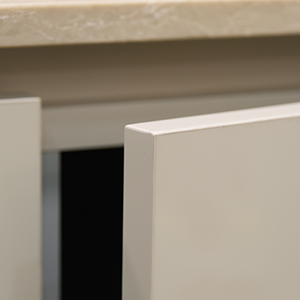 Adopting a warm tone for cabinets and worktop, Mia Cucina utilizes color psychology to create a perfect ambience for cooking.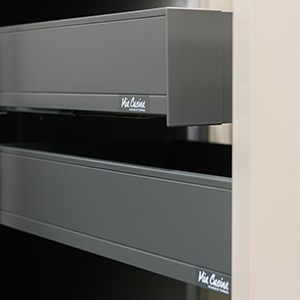 Having your kitchen utensils organized in drawers will make them easier to find during cooking.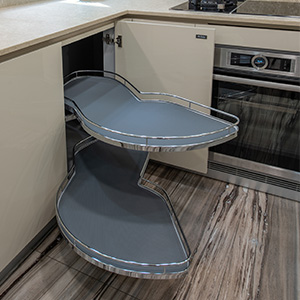 Storing large pots and pans in the corner unit is a practical solution for locating items when in need quickly.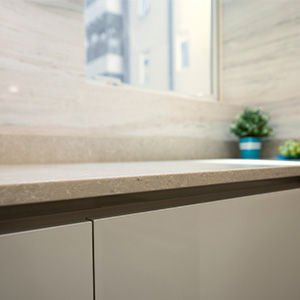 Streamlined elegant cabinets with a handleless design give this refined kitchen a minimal look.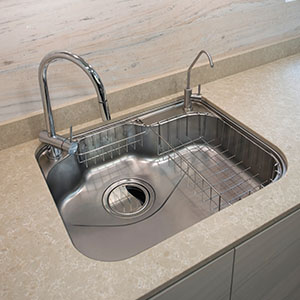 Add a drain rack on the stainless steel sink to directly dry the dishes and utensils, which is very practical.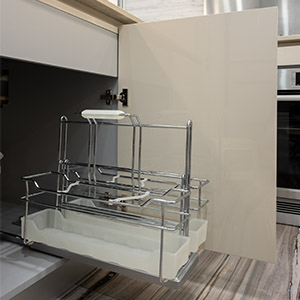 A detachable basket is installed in the base cabinet to enhance the flexibility of storage.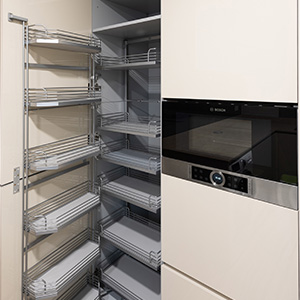 The space behind the cabinet door is a storage spot that is often overlooked, so Mia Cucina adds several shelves to increase storage.
Back