DESCRIPTION
Kitchens can be stored everything from food and cooking equipment to pots, pans, small appliances, and more. Mia Cucina provides storage ideas to keep every item organised and be easily within reach. 
FEATURES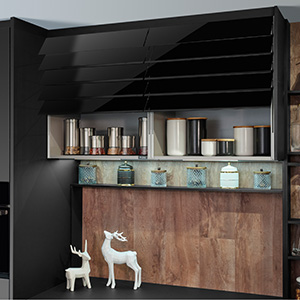 Sensor glass slats cabinet -
"Climber" top-mounted cabinet provides an elegant way to hide small items, pots and pans behind the glass slats. With just a touch on the sensor under the slats, the clutter-filled shelves will disappear to give a flair radiance to the kitchen.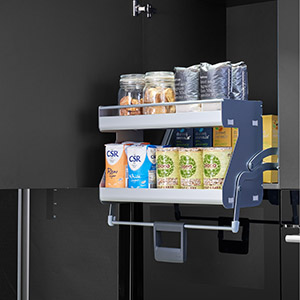 Pull-down layered rack -
It enhances the use of the vertical space inside a cabinet, allowing you to fetch things at the top easily.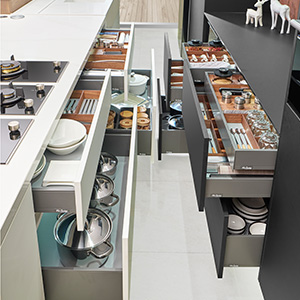 Large drawers -
Smartly placed drawers of various sizes in the cooking area enable nice organization with ample storage of cooking equipment.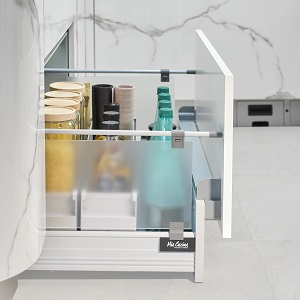 Large capacity drawer set -
This special-designed drawer set optimizes storage space for taller items as its bottom is made the closest to the floor.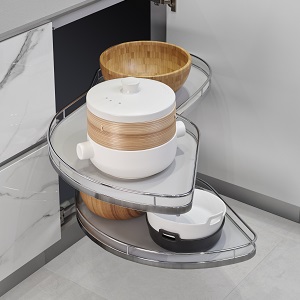 Corner unit -
User can make full use of space with the installation of corner unit. By simply pulling out the swinging trays, you can select bowls and dishes within eye sight effortlessly.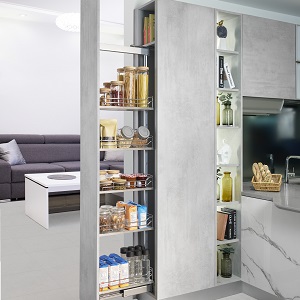 Sensor tall larder unit -
By simply touch control with a light knock on the cabinet front, plenty of stored groceries can be glided smoothly out of the tall larder unit and seen clearly from top to bottom.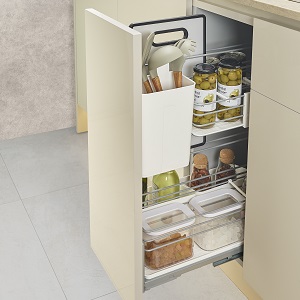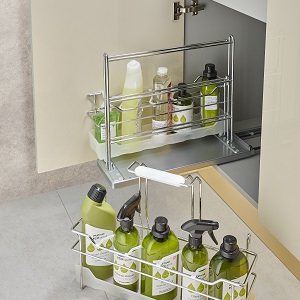 Pull out units with detachable racks -
The racks highlight flexibility as the users can take out the whole set separately.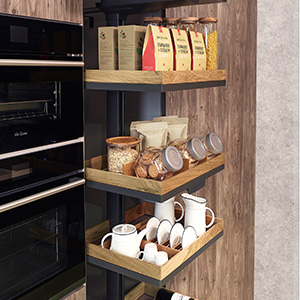 Tall larder unit -
This unit allows users to fetch things in easy reach and unobstructed view from three sides as it can be pulled out like a drawer to protrude the shelves.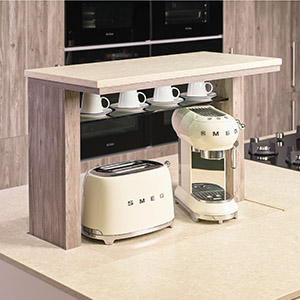 Motorized lift-up cabinet -
With just a touch on the remote, the lift-up cabinet tucked inside the countertop when it is not in use and empties out space for cooking to make kitchen tools easily accessible.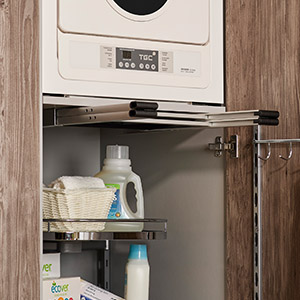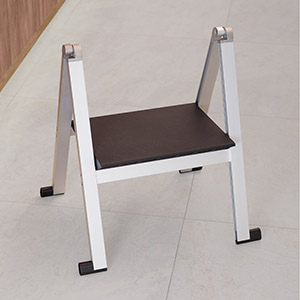 Built-in mini ladder:
The step ladder stored inside a cabinet and can be taken out anytime to help reaching objects at high positions.
BACK