HIGHLIGHTS
Mia Cucina specially designed an open kitchen with seamless integration of the dining room and the kitchen to welcome and gather with relatives and friends, allowing casual chats at all times. To incorporate beige door panels with pure white quartz countertop, this pleasant ambiance is a highlight of the users' preference. Mia Cucina has also suggested using gas dominos to cook multiple dishes conveniently, as well as, a built-in dishwasher to facilitate the cleaning process. It reflects the balance of practicality and aesthetic perfectly.
FEATURES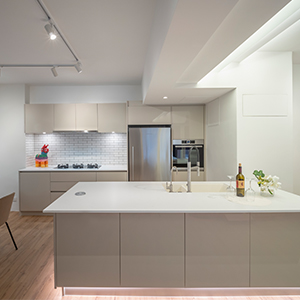 Cultivate a natural and harmonious vibe with the beige main tone, pure white checkered tiles and worktop. The island is versatile which can be used to handle ingredients or dining tables for guests, while cabinets underneath offer an ample amount of storage space.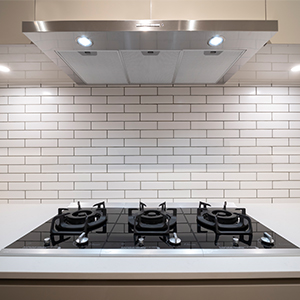 The new TGC DOMINO hobs series with 6kW super flame allow users to create different types of cuisine for parties.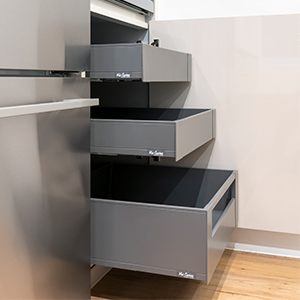 High-quality drawer slides are generally equipped with a soft-closing system to ensure smooth, silent and swift opening, ensuring utensils are kept in place by category neatly.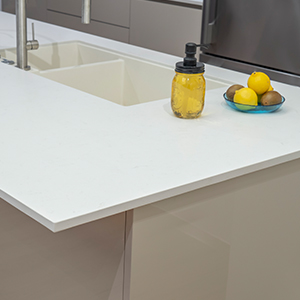 Quartz worktop is heat-resistant, durable and scratch-resistant, keeping it bright as new even used for a long time.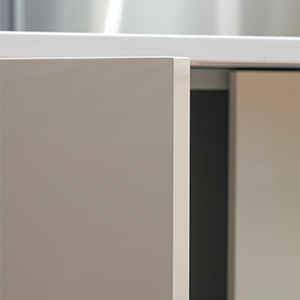 Mia Cucina applied an Italian imported beige color door panel as the main color of the kitchen cabinets for effortless natural living.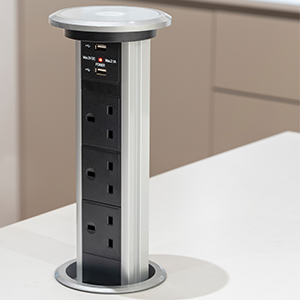 Pop-up power socket enables you to charge all sorts of different devices conveniently.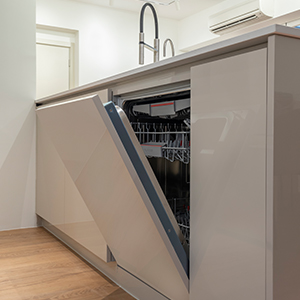 A built-in dishwasher is installed for optimum convenience in dish cleaning.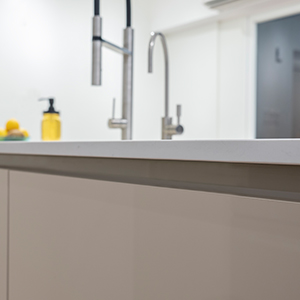 It is common to do away with handles to achieve a minimalist style.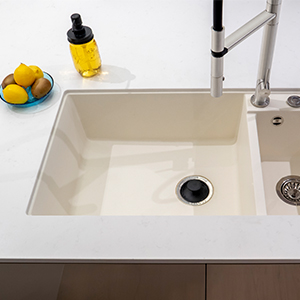 The double-bowl sink can wash kitchenware and ingredients separately to ensure hygiene.
Back