HIGHLIGHTS
Entailing a specific baking zone for all baking lovers, Mia Cucina has transformed part of the living room into a cozy area for baking and crafting their exquisite dessert at any time. To match with the existing interior, the kitchen cabinets are used in white and grey for simplicity. With meticulous planning in mind, a perfect baking hub is customized to suit users' irresistible tastes and passion. The island located in the middle is specially designed to provide a wider worktop space to prepare ingredients, sift flour and knead the dough. The ovens right behind are greatly preferred to facilitate the baking process while the spacious worktop allows friends and family to share the baking joy together.
FEATURES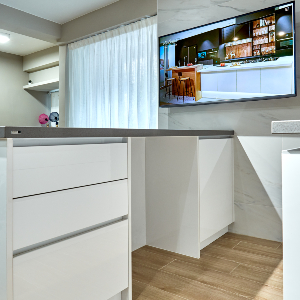 Mia Cucina purposely extended one side of the island as a bar table, providing spacious space for preparation and gathering with friends with the aroma of baking. The large TV is a great way to discover inspirations from the instructional videos during the baking process.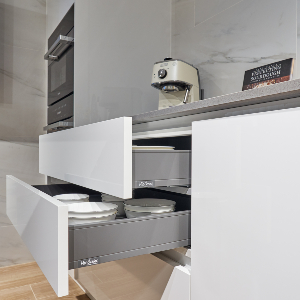 To avoid an overcrowded kitchen with baking equipment and molds, Mia Cucina has installed multiple drawers against the wall to store all kinds of utensils neatly in a people-oriented manner.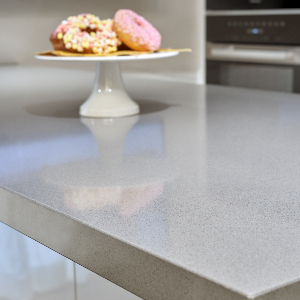 Almost every inch of the interior is swathed in white and gray to enhance the comfort of the baking area.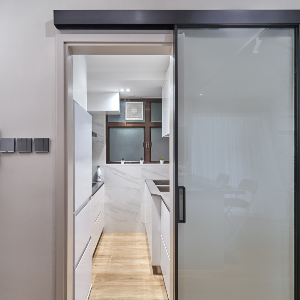 A parallel kitchen with a full range of appliances and storage accessories is also included for preparing 'wok-hei' dishes while providing ample storage for various kitchen utensils.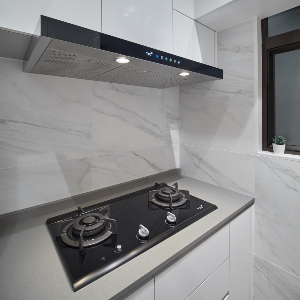 TGC range hood and MEGA2 bulit-in hob are specially selected for all cook lovers.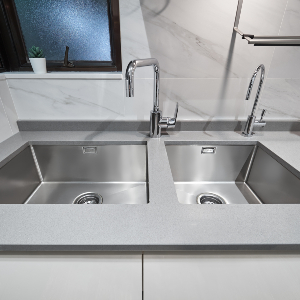 Bright yet modern, the stainless steel sink reflects a contemporary design.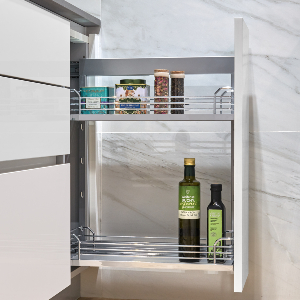 The designer has added a narrow pull-out unit near the stove for spices storage to maximize every inch of space.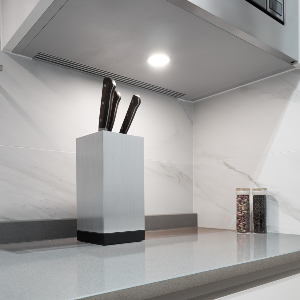 Mia Cucina has installed lighting under the wall cabinets to create a clean and contemporary kitchen.
Back