HIGHLIGHTS
Mia Cucina set this cooking space with refreshing white, along with all-black cooking appliances, ovens and wine cellar, to create a richer layer through such classic color mix. The worktops and base cabinets are made of European imported ultra-compact surface materials, allowing a full appreciation of materials' zero porosity to avoid oil infiltration. Its fine texture and gray glass backsplashes bring a subtly luxurious yet welcoming ambiance.
FEATURES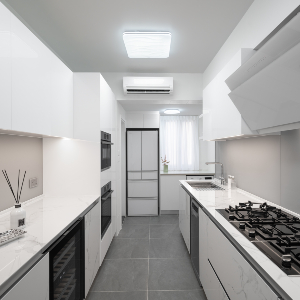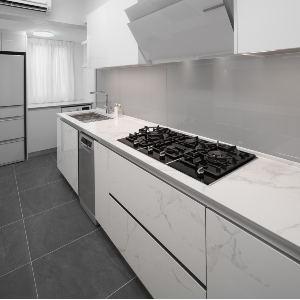 The parallel layout is particularly suitable for rectangle kitchens, usually cooking appliances are placed on one wall with the washing and preparation area opposite, which enables all family members to enjoy cooking at the same time.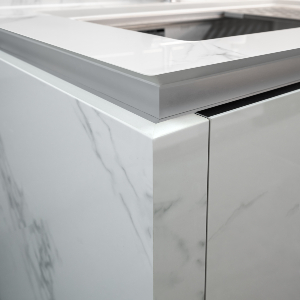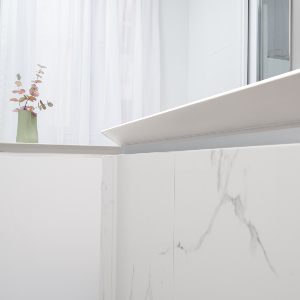 Ceramic materials with a unique ink marble texture have always been a hallmark of luxury and elegance in the kitchen.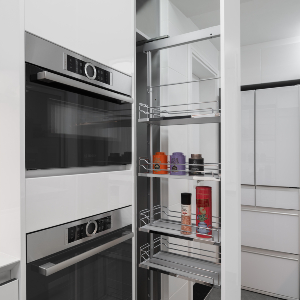 The tall pull-out basket next to the oven is designed to store jars and cans, providing easy access to a range of seasonings and ingredients.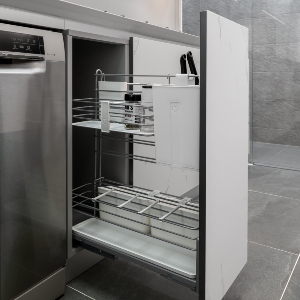 This pull-out unit helps organize all tiny items, including spices, knives and cutting boards, in an orderly manner.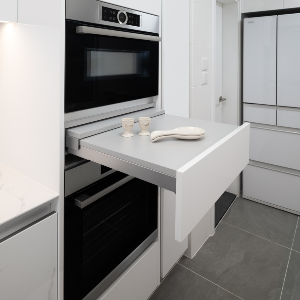 The multi-functional worktop can be pulled out when needed to provide a clutter-free work area, thus flexible use of kitchen space.
Back