HIGHLIGHTS
Characterized by natural color combinations of white and grey with marble texture, it adds an alluring and contemporary touch to the kitchen. The kitchen is planned to be both practical and aesthetically pleasing with a thoughtful act of design; with the use of a series of built-in appliances, it further elevates the quality of life and pleasure of flame cooking once moving in.
FEATURES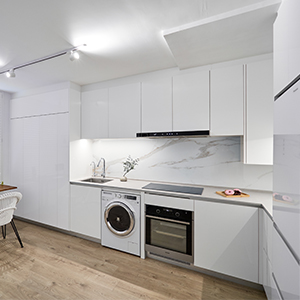 Elegance and comfortable, this marble backsplash with clear texture is echoed with the pure white design.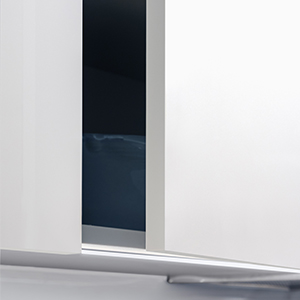 Well-known for its quality materials, a simple and streamlined style has been successfully established by Mia Cucina through the delicate use of Italian imported pure white.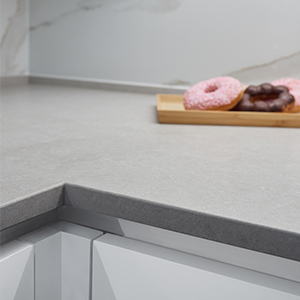 A perfect blend of light grey and white gives the worktop and cabinets an elegant rhythm.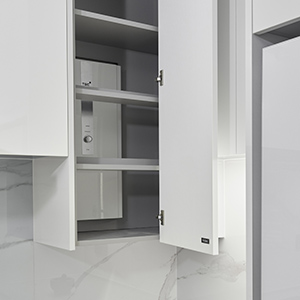 A tall cabinet can turn the small, narrow area into organized and effective storage.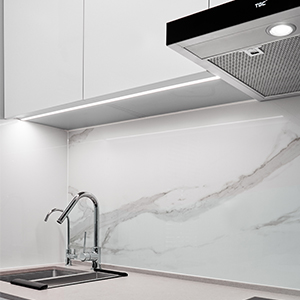 Count on the double-bowl sink to clean kitchenware and ingredients separately.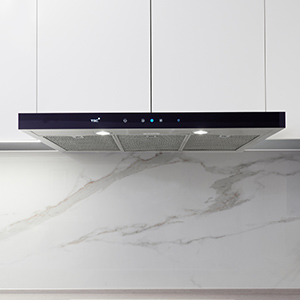 A powerful range hood in an open kitchen can eliminate all cooking nuisances in the kitchen efficiently.
Back