HIGHLIGHTS
Paired with the existing soothing floor and wall tiles, Mia Cucina selected grey as the primary color. Using grey base cabinets and matte black worktops, a pick of wooden pattern gives the space a harmonious and pleasantly modern feel. The spacious layout and the center island are great for the whole family to enjoy cooking, creating a loving environment at home!
FEATURES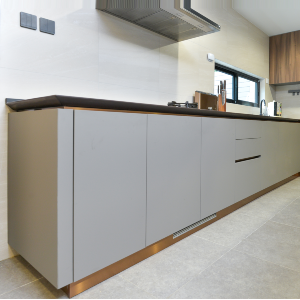 Made of Italian-imported FENIX nanotechnology materials, the base cabinets are anti-fingerprint with a soft touch, and effective in reducing the growth of bacteria.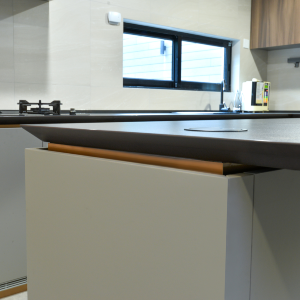 The antique bronze recessed edge pull conveys both elegance and noble.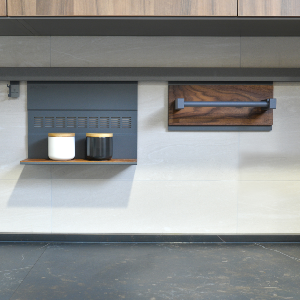 Make good use of the wall-mounted shelves to place the most commonly used utensils and seasonings.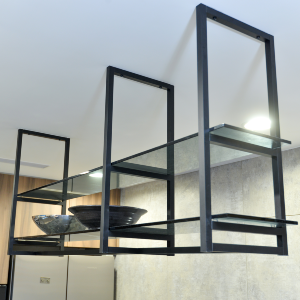 An overhead rack is employed to make use of the vertical space for storing cookware and displaying items.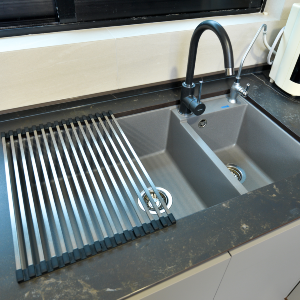 The double bowl sink is convenient for cleaning ingredients and utilities separately to ensure hygiene.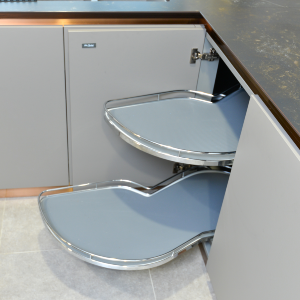 Pull-out swing is installed at the corner to make full use of the underneath area for storage.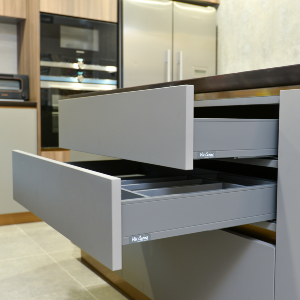 Using drawer dividers definitely can keep all tableware, including chopsticks, knives, forks and spoons, organized and accessible.
Back