HIGHLIGHTS
Less is more! Small kitchens require more attentive in clever storage and design features to make the most of small space! When choosing the color of the cabinets, a monochromatic approach is recommended by Mia Cucina to achieve a streamlined, tidy-looking kitchen. Built-in design is a modern trend in kitchen design nowadays. Appliances such as range hood, oven and refrigerator are integrated into the cabinets and completely concealed from sight, blending functionality and contemporary vibe and creating clutter-free workspace for food preparation.  
FEATURES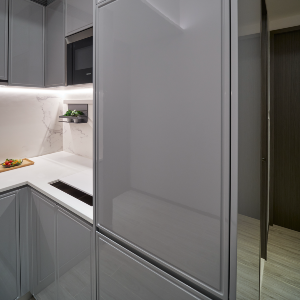 The surfaces of these gray cabinets are designed with delicate edging, which gives a good sense of style and elegance.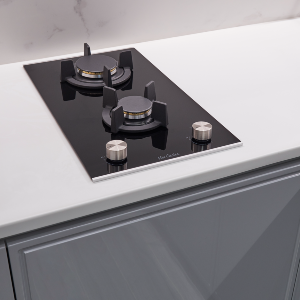 Practically yet aesthetic, the built-in hob is compatible with all kinds of kitchen styles to make a perfect coherent sense, while integrating seamlessly into the worktop with a minimalistic look for easy cleaning.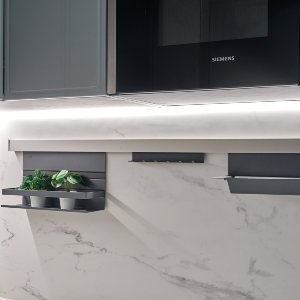 Installing hangers to place the most commonly used utensils and seasonings, maximizing storage space in a tiny kitchen.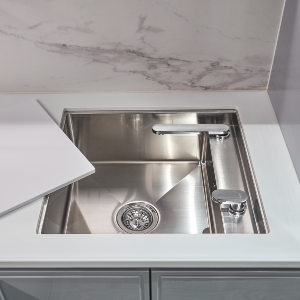 Apart from washing dishes, the invisible sink can be integrated with the worktop to serve as additional space for handling ingredients when not in use.
Back