HIGHLIGHTS
Going beyond the traditional crowd of using bright and soft hue, a matt black is applied which exudes charisma and stylish design. This advanced FENIX nanotech matt material in the whole kitchen cabinets and worktop is fingerprint-resistant and thermal-repairable; it can also effectively minimize bacteria production. The L-shaped layout with an abundance of storage accessories is masterminded to allow users to enjoy cooking moments.
FEATURES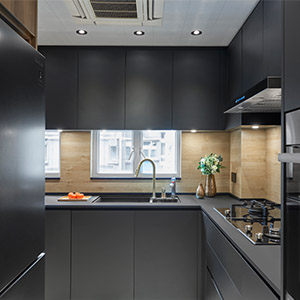 The cohesive use of black color in FENIX nanotech matt cabinets, cooking appliances and kitchenware conveys a modern-inspirited yet thoroughly personal style.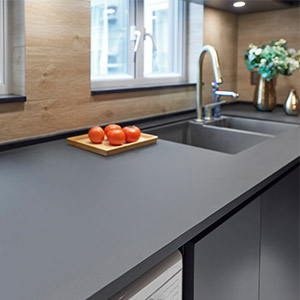 FENIX NTM is widely applicable in producing kitchen cabinets and worktops. An integrated design in line with the recent trend of minimalism can also be achieved by color matching and functionality.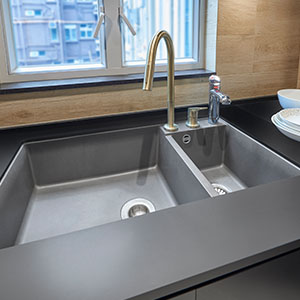 Showcase personal taste by the use of stylish black worktops and matt gray sink.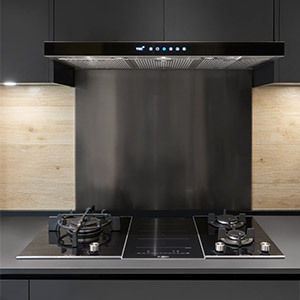 Knowing the importance of flame cooking, Mia Cucina specially selected a built-in hob with an 8kW super strong flame to infuse a 'Wok-hei' flavor into stir-fry.
In contrast to the existing wooden pattern, Mia Cucina used matt black FENIX NTM to accent the kitchen with a cool blend of dark and light colors.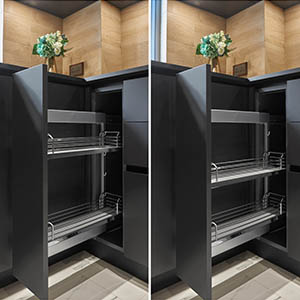 Make the most of kitchen storage by installing a pull-out unit.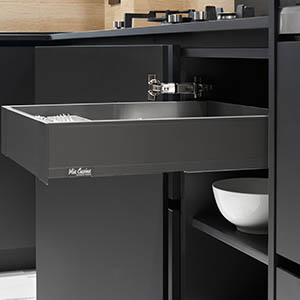 Thanks to interior drawers installed in base cabinets, it provides users with strategic storage and easy access, thus speeding up the cooking routine.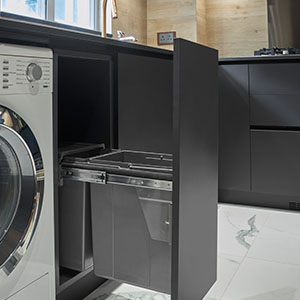 Pull-out trash cans are ideal when it comes to dishwashing and ingredient handling.
Back